Ebola Mapping
Not the nicest of topics but one that is getting much media attention these days, Ebola has come out of nowhere and is spreading - fast. There are plenty of online resources that teachers can access to help their students understand the geography of disease, particularly Ebola. I'll bet you didn't know we have geospatial tools to thank for the early discovery of Ebola in West Africa this time around?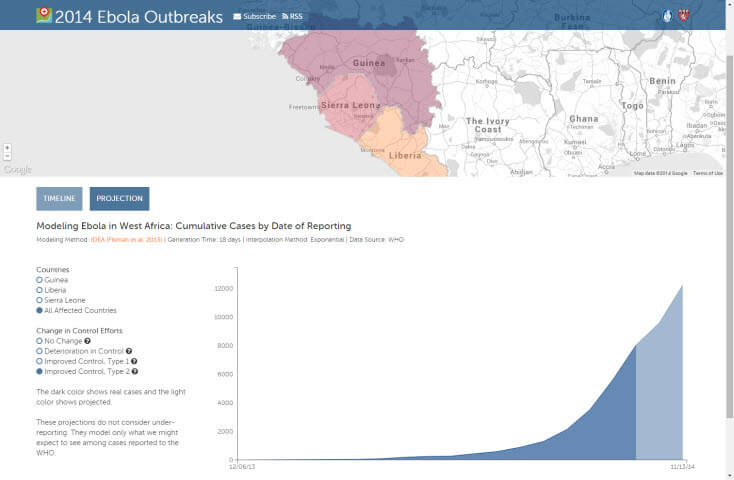 Geospatial tools can be used to respond to these sorts of disease outbreaks in a number of ways. The Geospatial Revolution video below outlines how these tools were used to manage a 2009 influenza pandemic admist the Hajj, the annual Islamic pilgrimage to Mecca.
SciDevNet and GIS Lounge both outline how GIS is used to help with the response to West Africa's Ebola outbreak. Primarily this is through mapping the location and spread of the disease to make predictions about where it may migrate, when and at what rate infection can be expected. Mapping comparisons of infection rates v death rates provides a measure of how effective treatment has been in different areas. Many agencies need geospatial tools to help physically get to the areas that are affected.
OpenStreetMap have taken up the challenge to produce an open-source response to the outbreak. The OSM Tasking Manager allocates different parts of the imapct area that need to be mapped, these open source maps can then be accessed by any agency or person on the planet at no cost for use in any way. Many of these areas are not profitible enough to be properly serviced with high quality data but this program crowd sources this data from people on the ground who know the area or people viewing high resolution (much higher than Google Earth) imagery of the area and interpreting that. The International Red Cross has called for more detailed maps that allow aid workers to navigate in areas that are typically unmapped. Interestingly the GIS Lounge article cites the rediscovery of old places.
"In some cases entire towns in western Africa are being rediscovered through these mapping programs. For example, the origin of the Ebola virus is believed to be the town of Guéckédou in Guinea. Older maps of the area showed only nine roads but mappers were able to add hundreds of new roads and streams from satellite images."
Finally, geospatial tools are inherintly visual tools which make them great tools to use when telling a geographical story. Many news agencies have used geospatial tools to summarise issues around this Ebola outbreak while presenting the information in an interesting way. The Guardian have created an interactive map that tracks Ebola outbreaks from the 1970s to today. RT news have also created an interactive map however focussing on the current outbreak only. The Economist have an infographic, based on a map, that has some additional statistics that may be of use.