Globes
http://www.dnrm.qld.gov.au/mapping-data/queensland-globe
The Queensland Globe is a fantastic tool that I think will give many teachers a 'foot in the door' when it comes to using geospatial technology in their classrooms. This initiative kicked off in 2013 and was led by Queensland's Department of Natural Resources and Mines and has led the way as other states come on board with similar projects.
There are a number of reasons why I think this tool will succeed in Queensland schools. The Queensland Globe provides a huge range of government data and it uses Google Earth to deliver that data. This allows teachers to use the tool in a range of classroom contexts and topics ensuring its widespread application. Using Google Earth means that most teachers will have some level of exposure to the platform which means it is more likely to be explored in depth, this familiarity with the software is important as it removes the fear of dealing with unknowns and also reduces the time required for teacher and student uptake. It also makes developing and sharing resources easy for teachers as Google Earth is a free application.
The data is extensive. The 'core' Queensland Globe contains basic data on places, infrastructure, contours, waterways and catchments and high quality imagery from across Queensland, in some rural and remote cases this imagery is of higher quality and more recent than Google's. The user can access more specific globes that contain data on mines, coal seam gas and flood data from as far back as 2011. The flood globe contains imagery from each major Queensland flood peak and a layer representing the flood extent. This looks great when match up with contour lines and viewed at an angle to make the most of the 3D effect provided by Google Earth.
Here are just some of the data sets that can be accessed using Queensland Globe: places, boundaries, road, rail, transport, infrastructure, vegetation, contours, mines and mine locations, geology, land valuations and flood data.
To view the data, ensure you have the latest version of Google Earth and then simply download this .kml file. To view the data in future, simply double click on the qldglobe.kml file, no need to download again.


http://globe.six.nsw.gov.au/
The New South Wales Globe is a similar tool to the Queensland Globe and can be easily accessed in much the same way, follow this link to download the nswglobe.kml.
The platform is identical in Google Earth, in fact you could open both globes together and lay them on top of each other if you wanted to. The data is very similar, obviously covering only NSW in extent. You can also access some historical imagery from Sydney including imagery from 1943.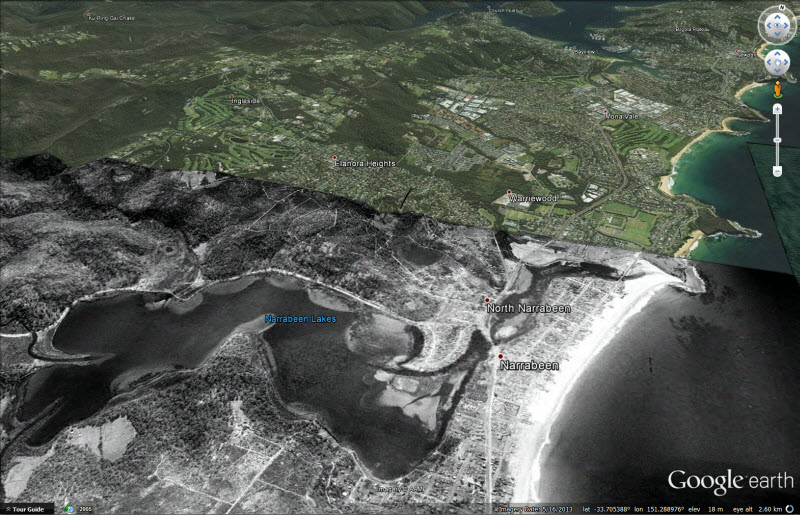 Both of these tools are a good sign that Australia is beginning to embrace the open data initiatives that have already provided North American and European citizens with good access to their government data. Now it is up to teachers to get out there and support them!