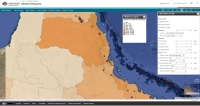 There are a wide range of online geospatial tools out there that you can quickly and easily incorporate into your teaching and learning. In this Masterclass we'll show you some of the all-time greats to get you moving with geospatial tools.
Suitable for teachers of Years F-12.
Join Mick Law from Contour Education online at 3:30pm AEST* (QLD time) for advice and resources to help get your geospatial program moving.
In the event that you can not attend the masterclass, you can review the recording in your own time or we will happily transfer your ticket to an upcoming masterclass instead with 24 hours notice prior to the commencement of your originally ticketed event.
*check for daylight savings.